Annabel Trends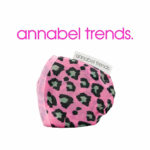 Annabel Trends Sells Homeware & Garden Gifts, Travel Accessories, Spa and Pamper Products, Bath and Body Products, Baby Gifts, and Decorative Home Wares.
Annabel Trends has a range of fabulous gifts that are perfect for all occasions, whether it be a birthday, anniversary, Christmas or just because!
Annabel Trends love showcasing bold colours and stylish designs on accessories that people love to use.
Showing all 7 results