Daylesford Apothecary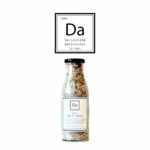 Daylesford Apothecary we use naturopathic wisdom to hand-craft a range of naturopathic bath and body products each with their own unique intention for healing to help restore harmony within the body.
Daylesford Apothecary embrace naturopathic roots and magical spirit, hand-crafting a luxurious range of healing potions and tinctures that are crafted with intention.
Each product has evolved to embrace both elements of traditional and modern herbalism, and in their creation are given their own unique purpose and intention for healing.
Showing all 6 results