Insite Mind Products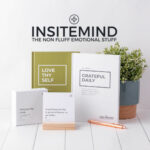 Insite Mind workbooks are not only journals but actual tools that guide, educate and change the way you think. Something you can use daily to create lasting change.
Insite Mind believe in helping people to take the step towards a happy, positive outlook on life in any way feasible. Their range of stationary and gift packs are designed to assist those who are ready to look inside themselves for the answers.
Showing all 7 results