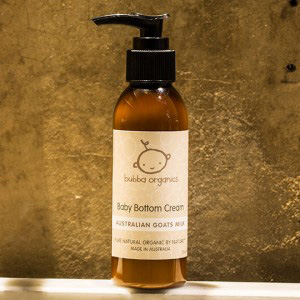 Bubba Organics – Baby Bottom Cream – Goats Milk – 125ml
Our Beautiful Organic Ingredients are ideal for baby's sensitive skin. Shea Butter, Calendula, Aloe Vera & Olive enriched with fresh Australian goats milk will calm, soothe & safely nourish while naturally protecting baby's sensitive bottom area.
Product Description
Created with extra sensitive skin in mind the Bubba Organics Fresh Australian Goats Milk Baby Skin Care range also assists those suffering from Eczema, Psoriasis and other dry skin related problems.
Brand: Bubba Organics