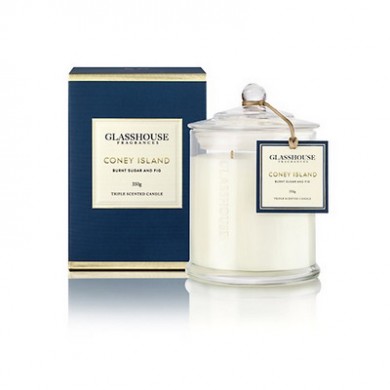 Glasshouse Coney Island 350g
Bright lights, carousel music and infinite fun. Step right up to Coney Island, NYC's original amusement park, for a magical blend of burnt sugar and fig that inspires clowning around. Our Triple-Scented Candles are handmade in Australia, using the highest quality non-toxic wax and natural lead-free cotton wicks.
Product Description
Fragrance Description Top: Cinnamon Bark, Glory Vine, Apple Guava. Middle: Fig, Damask Rose, Osmanthus Flora. Base: Sandalwood, Green Amber, Jasmine Tea. Fragrance Family Oriental Tips To get the most out of your candles burn them for 1-4 hours at a time. Our reusable jars are perfect for storing cotton buds or spices.
Size: 350g
Brand: Glasshouse