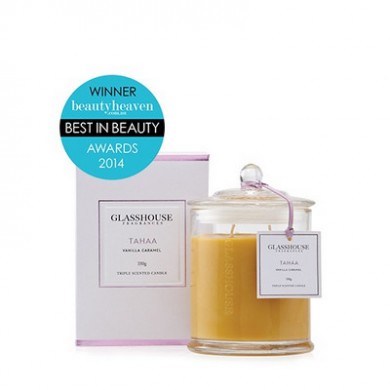 Glasshouse Tahaa 350g
Untouched and unspoiled, Tahaa is the ultimate natural high. Its signature Vanilla fragrance is complemented with fresh Coconut and Frankincense for a magical Polynesian Island experience. Our Triple-Scented Candles are handmade in Australia, using the highest quality non-toxic wax and natural lead-free cotton wicks.
Product Description
Fragrance Description Top: Pineapple. Middle: Coconut Fruity. Base: Caramel and Vanilla. Fragrance Family Gourmand Tips To get the most out of your candles burn them for 1-4 hours at a time. Our reusable jars are perfect for storing cotton buds or spices.
Size: 350g
Brand: Glasshouse