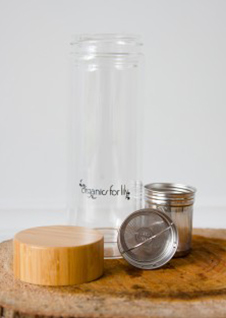 Organics for Lily – Large Glass Infusion Tea Bottle – 500ml
This Tea Bottle is beautiful and practical, keeping your tea hot, or your drinks refreshingly cool for up to an hour. Just pop your favourite tea leaves into the bottle, add water, and the built-in stainless steel strainer and your brew has begun!
Product Description
Made of double-walled borosilicate glass, the bottle is reusable, cool to the touch and tough enough to take anywhere. The eco-friendly bamboo lid is airtight, keeping your tea fresh and preventing leaks. It's BPA-free and the purity of glass means your tea always tastes delicious and is better for your body and the environment!
Brand: Organics for Lily