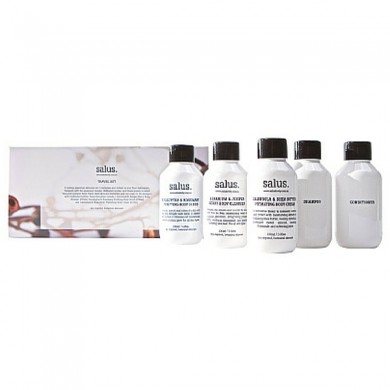 Salus Travel Gift Set
Corporate Gift Ordering is based on multiple / bulk buys for industry. This equates to orders of 10 items of the one product. Gifts are wrapped and discounted by 10% .
Minimum Order = 5 x $39.95 = $199.75
Discount 10% when you purchase Minimum Order of 10 = Simply Enter Coupon Code COUPONMINORDER
*Price Includes GST
Product Description
Top selling Body travel Kit, with 2 empty bottles for shampoo and conditioner.
The new and limited edition Salus Body Travel Set is a holiday essentials skincare set to revitalise and refresh at your final destination.
Designed with the seasoned traveler, dedicated worker or fitness junkie in mind, this pack contains three 100ml travel sized skincare favourites and two ready-to-fill shampoo and conditioner bottles.
The Salus Body Travel Set contains:
– Geranium & Juniper Berry Body Cleanser 100ml: a soothing and replenishing SLS-free body wash, formulated with hydrating aloe, cleansing chamomile, certified organic rosemary leaf extract and a rejuvenating blend of geranium, juniper berry, grapefruit and rose essential oils.
– Eucalyptus & Rosemary Purifying Body Scrub 100ml: cleanse, smooth and soften dry skin with the spa strength Salus Eucalyptus & Rosemary Purifying Body Scrub, containing bamboo and pumice to stimulate cell renewal and restore youthful glow.
– Calendula & Shea Butter Hydrating Body Cream 100ml: combines a restorative blend to intensely nourish and protect the body. It is formulated with moisturising extracts of hydrating shea butter, healing calendula, protective sweet almond, soothing chamomile and softening jojoba.
– Empty bottles to decant your favourite shampoo and conditioner for travel.
Made in Australia.
Brand: