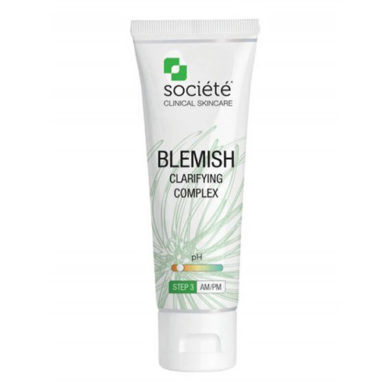 Societe Clinical Skincare Blemish Clarifying Complex 50ml
A unique blend of ingredients designed specifically for problematic skin, this complex targets the key factors that contribute to a variety of challenging skin conditions. Bacteria, oil production, and cellular build-up on the skin's surface are all components that increase negative skin responses, causing impure and problematic skin. Used daily, this complex will aid in reducing those triggers, improving the skin's condition and overall appearance.
Product Description
A daily treatment, designed specifically for problematic skin. BENEFITS • This complex is excellent for anyone with oily skin • Addresses bacteria, sebum production, inflammation, retention Hyperkeratosis, 5-Alpha Reductase, Hyaloronidase and Lipase Enzymes • This unique serum combats both active acne, hormonal breakout, blackheads and is also a great daily exfoliator. SKIN TYPE Good for all skin types, especially Blemish / Acne Prone DIRECTIONS Apply one (1) pump to entire face both morning and evening, spreading evenly.
Size: 50ml
Brand: Societe Clinical Skincare