Facial rejuvenation has never been this easy!
Sun damage, fine lines, scarring from spots, rosacea, acne and dark spots can all be a thing of the past with this revolutionary technology! It's performed by one of our well trained Skin Therapists assuring your safety and comfort.
How does Photorejuvenation work?
The Photorejuvenation process uses pulsed light to treat pigmented and vascular lesions for overall improvement of skin tone. Pulsed light systems are similar to lasers but with a larger beam for wider coverage and faster, more comfortable treatments.
Will Photorejuvenation Treatments hurt?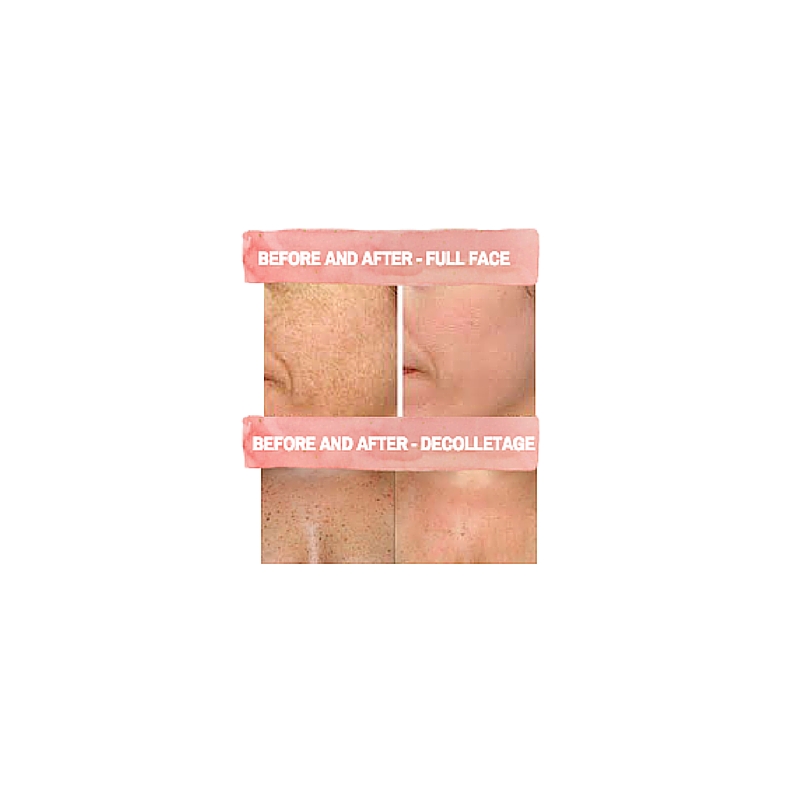 Photorejuvenation uses a unique long pulse width that delivers energy to the skin over a relatively long period of time without overheating the epidermis. This makes the pulses safer and more comfortable. You may experience a feeling similar to that of a rubber band being snapped on the skin, but most people do not report this sensation as painful.
Are there any adverse effects?
You may experience temporary redness and a mild "sunburn"- like effect that may last a few hours to a few days.
If you suffer from Cold sore use Acyclovir or Zovirax leading up to treatment.
Must be prepped on Pigment Punch or another pigment blocker.
If you have been on Accutane, from the day you finished you must wait 6-12 months before having this treatment.
If you are topically using Retin A you must no use it for 1 week leading up to your treatment.
Dermal Fillers – wait 2 weeks before having this treatment.
Botox – wait 1 week before having this treatment.
IPL or Laser hair removal – wait 2 weeks before having this treatment.
Post laser resurfacing – wait 6-12 months before having this treatment.
Post IPL – wait 4 weeks before having this treatment.
Peels 2 weeks before this treatment and 2 weeks after this treatment.
No Microdermabrasion 2 weeks before this treatment.
No Facial waxing 12 hours before this treatment.
Men – No shaving for 12 hours before this treatment or after this treatment.
Skin might be red and warm on some clients after their treatment; we will provide you with an ice pack to use straight after.
Pigmentation will turn a black or darker colour immediately afterwards and then starts to flake off approximately 14 days later.
Pigmentation or sunspots might seem to have dried and flake off, this is expected and all part of the treatment.
No swimming, sauna, exercise and spa after treatment – but next day is perfect.
Capillaries will seem darker after treatment and will subside days later.
We use Post Treatment Balm to settle the treatment and calm the skin: we recommend this for home care.
A recommended SPF sun protection MUST be worn pre- and post-treatment – no compliance, no treatment.
No standard chemical or highly fragranced SPF's to be used, only physical SPF to avoid adverse reactions or irritations.
Mineral Make Up to be worn (no talc powders).
Post Treatment Balm to be worn for next 2-3 days.
Use Gentle Cream cleanser 2-3 days after treatment.
No chemicals including swimming for 48 hours after treatment.
No harsh skin care including Retinol or exfoliants for 72 hours.
Cold sore prone use Acyclovir or Zovirax after treatment.
No exercise for 24 hours.
No spray tan or solarium.
No waxing for 5 days after treatment.
Can't apply cosmeceuticals for at least 48 hours.
Men – No shaving for 12 hours before this treatment or after this treatment.
Photorejuvenation Home Care
Photorejuvenation is a highly specialised and revolutionary treatment that requires careful care following treatment. Using the following recommended products will ensure that your skin stays safe and healthy after treatment:
Want to know more about photo rejuvenation? Call us on (03) 9531 5092 for a complimentary consultation about photo rejuvenation and skin resurfacing or drop by our St Kilda beauty salon today.
Skin Photo – Rejuvenation IPL – Capillaries / Pigmentation
Using intense light pulse to treat damaged, broken and frail capillaries. Balances discoloration, evens skin tone, treats blemishes and pigmentation whilst building collagen on the treated areas. Say goodbye to red broken capillaries and uneven skin! A hat, scarf and sunglasses is recommended for post treatment.
| | | |
| --- | --- | --- |
| PHOTO-REJUV LADIES | TIME | PRICE |
| Full Face | 30 | 198 |
| Cheeks | 15 | 95 |
| Chin | 15 | 50 |
| Forehead | 15 | 95 |
| Lip | 15 | 50 |
| Neck | 15 | 90 |
| Hands | 15 | 160 |
| Decolletage | 30 | 198 |
| Sides of Nose | 15 | 90 |
Add on
Hydrating Peptide Booster Mask – highly recommend after these treatments $35