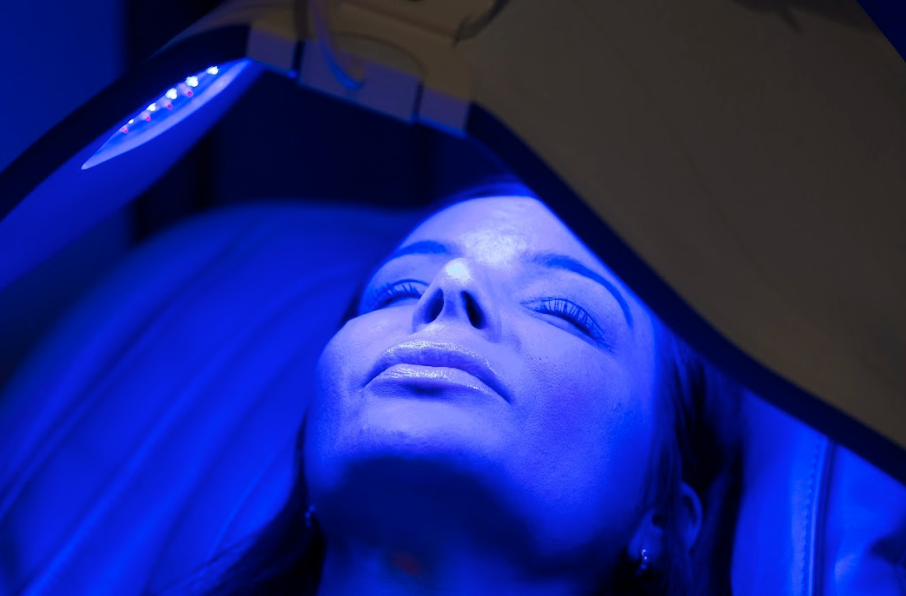 LED - LIGHT THERAPY IN MASSAGE RECLINER
Based on extensive research, low-level-light therapy devices have been cleared by the FDA, and shown to manage:

Superficial, benign vascular and pigmented lesions
Eczema, Psoriasis, Rosacea
Sub-optimal local blood flow and circulation
Pain and stiffness associated with arthritis
Sleep
Acne
Inflammation
Healing
Rejuvenation
CAN I LEAVE MY MAKE-UP ON?
We do recommend a freshly cleaned face as make-up
formulas contain minerals that may deflect light. We will provide everything shall you be coming straight from work.


HOW LONG DO SESSIONS LAST AND HOW MANY SHOULD I HAVE?
Depending on the reason why you are having LED will determine how many per week to have. The sessions are 30mins and 2-3 is usually recommended her week for managing acne and aging.


IS IT UNCOMFORTABLE?
No. Light therapy is non-invasive and is painless when used as intended. The difference with Beautyologist is that you will enjoy a massage at the same time as listening to your own music. You will be covered with a warm blanket and left to absorb and relax.


WHY IS BEAUTYOLOGIST DIFFERENT?
Our device is one of the best on the market. It is a medical device with wavelengths that penetrate deeper than most leading brands, providing a more effective result. Our lounge is fitted with a massage recliner for your enjoyment, you can lie back, connect your earphones and enjoy. Created by NASA, the Celluma ELITE boasts 3 pre-programmed modes to treat Acne, Wrinkles and Pain conditions. It is a polychromatic device that delivers blue (465nm), red (640nm) and infrared (880nm) light energy simultaneously to safely treat a wide variety of conditions easily.