Bespoke Letterpress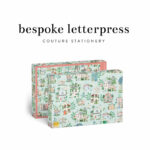 Bespoke Letterpress is one of the world's leading letterpress studios designing and printing fine letterpress and hot foil stationery.
Bespoke Letterpress print the beautifully old fashioned way, using antique cast iron machines, printing on imported luxuriously thick paper mixed with patience, perfection and a whole lot of love.
Bespoke Letterpress range of everyday stationery includes greeting cards, gift tags, desktop stationery, writing sets, notebooks and our world famous double sided gift wrap.
Showing all 4 results