DermaQuest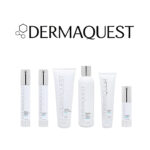 Great skincare combines expert knowledge, premium ingredients and cutting-edge technology within advanced formulations to ensure your skin benefits from every use.
This is why DermaQuest is one of the leading professional skincare collections with advanced delivery systems for best results. Offering targeted solutions for ageing, dry, hyper-pigmented, sun-damaged, acne, oily and even sensitive skin concerns, this pioneering paraben-free range is customisable to your individual needs.
Harnessing unique delivery systems for maximum efficacy paired with pure skin science, DermaQuest nurtures, rejuvenates and balances the skin for optimal youthful glow.
Discover cruelty-free skincare backed by professionals, made especially for you at home.
Showing all 5 results