Queen & Co Jewellery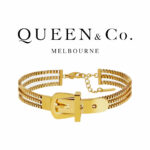 Queen and Co. was founded by Seyhan Bektas and Cihan Bektas, a Melbourne-based couple of entrepreneurs with respective skills and backgrounds of over 15 years in the fashion and creative arts industry.
All pieces are manufactured in limited editions using 925 stainless steel, triple plated with premium 18 carat gold, and zirconium gemstones. Our plating method provides extra protection against natural discolouration, so you can enjoy your purchase for as long as possible.
Each piece of our collection is designed to modestly enhance even the simplest and most minimalistic of outfits, and make the process of getting dressed in the morning a little easier for you.
Showing all 17 results