The Beauty Chef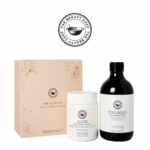 The Beauty Chef create bio-fermented, probiotic wholefood powders and elixirs for gut health, glowing skin and wellbeing.
The Beauty Chef believe that 'beauty begins in the belly'—that when you are healthy on the inside, your skin radiates a natural glow that no amount of cosmetics can replicate.
Your skin, body and microbiome need to be nourished properly with amino acids, vitamins, minerals, essential fatty acids, antioxidants, prebiotics and probiotics; all of which can be obtained from unprocessed wholefoods as well as bioavailable and assimilated lacto-fermented foods like those found in our products.
Showing all 14 results