The Goodnight Co. Products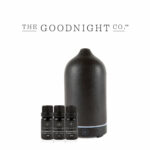 The Goodnight Co. create a range of all-natural products are proven to help you fall asleep, stay asleep and wake up looking and feeling your best.
The Goodnight Co. are driven by one mission: to help you create better days, through better sleep. After many years working towards this goal, they've learned quality, uninterrupted sleep – as fundamental to health and wellbeing as nutrition and fitness – holds the one, true key to enabling you to rise and truly shine.
Showing 1–12 of 17 results