Blue Jasmine & Hedera
In the shimmering blue of the Aegean, the Glasshouse Santorini candle mesmerises with a bewitching sense of charm and beauty. Unleash your Greek goddess with an ethereal mix of sweet Blue Jasmine draped in cool refreshing ivy.Each candle is triple scented, to permeate your space with a release of exotic fragrances and uses the highest quality non-toxic wax and natural lead-free cotton wicks.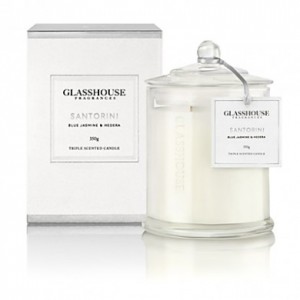 Handmade by master candle makers, these beautiful scents and waxes have been perfected over many years of research to create a candle that will pamper you whatever the mood.
The signature Glasshouse container is special for several reasons. The lid of your candle jar is a snuffer. Use it to extinguish the flame by replacing it firmly on the jar. The glass jar itself is reusable and great for cotton balls, buds or buttons. Simply wipe with a dry paper towel while the wax is still warm and then wash as you would any dish, with soap and water. If residue still exists repeat the process. Its also 100% recyclable.
Purchase your Glasshouse Santorini Candle here or stop in the salon today! ($39.95)