Based on extensive research, low-level-light therapy devices have been cleared by the FDA, and shown to manage: Superficial, benign vascular and pigmented lesions, Eczema, Psoriasis, Rosacea, Sub-optimal local blood flow and circulation, Pain and stiffness associated with arthritis, Sleep, Acne, Inflammation, Speed Up Healing and Rejuvenation.
Celluma LED is FDA cleared for pain management and skin conditions. Celluma uses light energy to improve cellular health by accelerating the repair and replenishment of compromised tissue cells. Research has shown that LED light therapy may help smooth skin texture, improve skin firmness and resilience, increase lymphatic system activity, restore skin's natural cellular activity, and reduce the appearance of fine lines, wrinkles, and superficial hyperpigmentation.
LED has many settings to not only suit sensitive, pigmented and aging skin but also acne. Celluma's blue wavelengths kill the bacteria that causes breakouts, while reducing the inflammation, pimples and redness associated with acne. A reduction in lesions and overall improvement in skin appearance is often seen in only a matter of weeks.
The treatment is for all skin types, and is non-ablative, non-invasive, painless, and requires absolutely no downtime. Patients or clients can return to their normal activity immediately after the treatment. We recommend bringing your ear pods to connect to your own music and zen out on our massage recliner.
Can I leave my make-up on?
We do recommend a freshly cleaned face as make-up
formulas contain minerals that may deflect light. We will provide everything shall you be coming straight from work.
How long do sessions last and how many should I have?
Depending on the reason why you are having LED will determine how many per week to have. The sessions are 30mins and 2-3 is usually recommended her week for managing acne and aging.
Is it uncomfortable?
No. Light therapy is non-invasive and is painless when used as intended. The difference with Beautyologist is that you will enjoy a massage at the same time as listening to your own music. You will be covered with a warm blanket and left to absorb and relax.
Why is Beautyologist different?
Our device is one of the best on the market. It is a medical device with wavelengths that penetrate deeper than most leading brands, providing a more effective result. Our lounge is fitted with a massage recliner for your enjoyment, you can lie back, connect your earphones and enjoy. Created by NASA, the Celluma ELITE boasts 3 pre-programmed modes to treat Acne, Wrinkles and Pain conditions. It is a polychromatic device that delivers blue (465nm), red (640nm) and infrared (880nm) light energy simultaneously to safely treat a wide variety of conditions easily.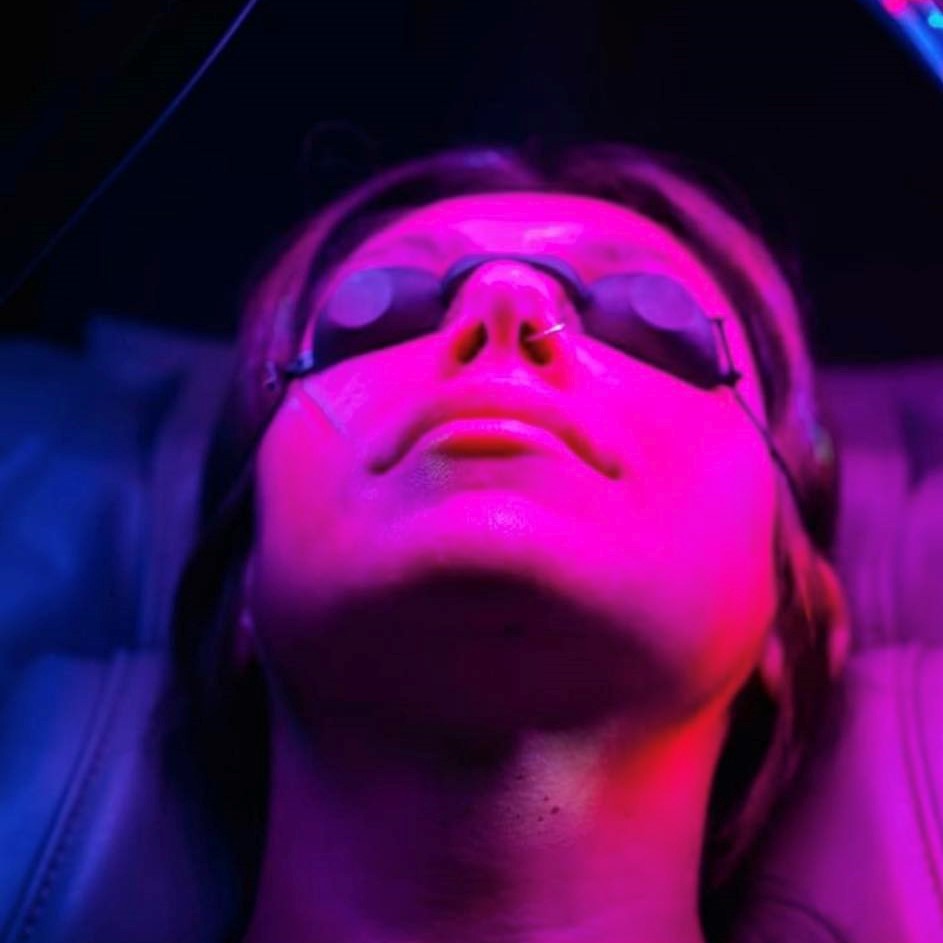 LED - Light Therapy + Body Massage in our Lounge