As you're already aware, we accept online bookings at Beautyologist- as we've found this is simply the easiest route for many of our valued clients. We're happy to share with you that we're also able to accept bookings via our Facebook page now!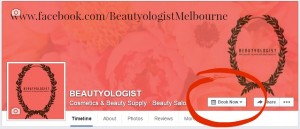 If you're already following along, you may have noticed a new addition near our cover photo- encouraging your to BOOK NOW! A simple click-thru is all that's needed to get your next treatment on our books!
We're looking forward to hearing from you! Whether by phone, online booking, or NEW facebook booking options.