We love the Aspect Fruit Enzyme mask because it is both potent and antioxidant-rich. Designed to eliminate dead skin buildup and dissolve excessively peeling skin post all in-clinic procedures.
Benefits: Gentle exfoliation, with antioxidant protection, the Fruit Enzyme Mask also moisturises, smoothes and calms. Conditions: Can be used in-clinic as part of a medi-facial Can be used post peel and post all in-clinic procedures to address flaking skin. Can be used on normal, dry, or scaly skins Addresses mild hyperpigmentation.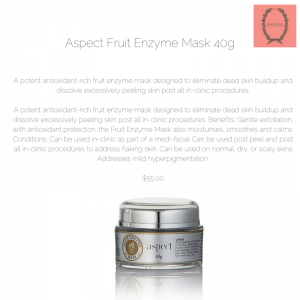 $55 RSP
Shop yours here: http://bit.ly/1KkLGLZ or stop into BEAUTYOLOGIST today!