Skin Needling Melbourne – Collagen Induction Therapy
Number 1 skin needling treatment – LOVED by therapists for the results!
Beautyologist experts perform the latest skin needling techniques using Dermaviduals CIT pen.

Sometimes you need more than just a simple facial or microdermabrasion. That's when we call in the big guns – highly specialised skin needling facial treatments that produce dramatic and lasting results.
How does Skin Needling work?
A pen with needles between 0.15-2mm long is passed over the skin causing tiny punctures within the dermis and epidermis, encouraging facial skin to heal itself naturally. During this process, essential minerals, proteins, new collagen and elastin fibres are discharged and regenerated straight away. Your therapist will apply a local anaesthetic cream to ensure maximum comfort, and a new device is used for every treatment.
What results can I expect from Skin Needling?
Increased cell proliferation.
Increased cell regeneration.
Angiogenesis (the formation and development of capillaries).
Exfoliation / desquamation.
Increased topical product absorption.
Regulated pigmentation.
Reduced size of the appearance of pores.
Reduced size of the appearance of scar tissue.
Reduced appearance of stretchmarks.
Reduced appearance of cellulite.
Increased growth of h2er and thicker hair.
Before & Afters: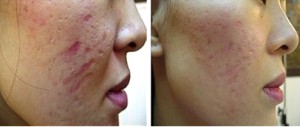 Step 1 – Consultation

This enables us to discuss your treatment plan and the results that you would like to see. A patch test of anesthetic will be applied to test for allergic reactions. Your skin will be prepped, if not already with the appropriate skincare. Some clients might need 2 weeks or prepping, others may need 2 months of prepping. The most important thing to know is that the healthier your skin is, the better the results.
Step 2 – The Treatment
The treatment itself is really easy and only takes 20mins, it is the anesthetic which requires 30mins and the skin cleansing time.
Step 3 – The follow up (optional)


This is a complimentary 20min enzyme treatment after your first session as we expect you would be peeling and quite dry. If you do not have time to come in to see us, don't worry, you can use our Aspect Enzyme Mask at home. We recommend you use this 3 days after your Skin Needling treatment.
Cost $299 including Consult and Follow-up.
3 treatments = $790
Additional LED = $90
NOTE: We do not compromise quality and therefore we use the FULL Dermaviduals products from start to finish. This treatment and the method we perform is approved by Dr Lance Setterfield who wrote the book The Concise Guide to Dermal Needling.
COST: $299 including anesthetic, enzyme preparation peel, consult and follow-up.
We do realise that there are salons which charge $300 – $1750 per treatment. We have priced ours under the recommended price to keep it affordable for our clients. Other salons may include LED, take home products or a preparation peel. We include a preparation enzyme peel in your treatment. LED is a 30min add on $90.
Skin Needling Home Care
Having a skin needling treatment? The following home care products will enhance your results:
If you suffer from Cold sore use Acyclovir or Zovirax leading up to treatment.
Must be prepped on Pigment Punch or another pigment blocker as instructed by your skincare therapist.
If you have been on Accutane, from the day you finished you must wait 6-12 months before having this treatment.
If you are topically using Retin A you must no use it for 1 week leading up to your treatment.
Dermal Fillers – wait 2 weeks before having this treatment.
Botox – wait 1 week before having this treatment.
IPL or Laser hair removal – wait 1 weeks before having this treatment.
Post laser resurfacing – wait 6-12 months before having this treatment.
Post IPL – wait 2 weeks before having this treatment.
Peels 2 weeks before this treatment and 2 weeks after this treatment, depending on strength. Consult your skincare professional.
No Facial waxing 12 hours before this treatment.
A recommended sun protection MUST be worn – no compliance, no treatment.
No standard chemical or highly fragranced SPF's to be used, only physical SPF to avoid adverse reactions or irritations.
Mineral Make Up to be worn (no talc powders).
Post Treatment Balm to be worn for next 2-3 days.
Use Gentle Cream cleanser 2-3 days after treatment.
No chemicals including swimming for 48 hours after treatment.
No harsh skin care including Retinol or exfoliants for 72 hours.
Cold sore prone use Acyclovir or Zovirax after treatment.
No exercise for 24 hours.
No spray tan or solarium.
No waxing for 5 days after treatment.
Can't apply cosmeceuticals for at least 48 hours.
Men – No shaving for 12 hours before this treatment or after this treatment.