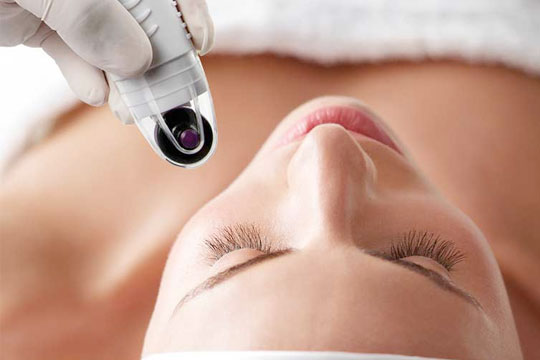 DermaFrac offers simultaneous delivery of infused ingredients in a pain-free, no down time treatment. The DermaFrac System is a 4 in 1 cosmetic device allowing for an effective three phase treatment process which includes
Microdermabrasion
Concurrent Skin Needling and serum infusion
LED Light treatment
The hand piece containing the micro-needle roller tip cap and a cartridge of targeted active serum is moved across the skin which is targeting increasing collagen and fibroblast activity. The vacuum gently pulls the skin into contact with hundreds of micro-needles that painlessly penetrate through the skin. The channels created act as pathways for the delivery of the serum deeper into the skin.
The depth of the needles have been carefully selected so that the channels are created just below the surface and just above the capillaries and nerve endings. This ensures no pain or bleeding.
In addition to the advanced serum delivery and natural stimulation of collagen and fibroblasts the DermaFrac system offers microdermabrasion for removal of thickened skin as well as LED therapy to finish and help calm the skin. This treatment is designed for those clients who want to see advanced results from their treatments but don't have the downtime available to them that is needed with other treatments.
If you suffer from Cold sore use Acyclovir or Zovirax leading up to treatment.
Must be prepped on Pigment Punch or another pigment blocker as instructed by your skincare therapist.
If you have been on Accutane, from the day you finished you must wait 6-12 months before having this treatment.
Dermal Fillers – wait 2 weeks before having this treatment.
Botox – wait 1 week before having this treatment.
IPL or Laser hair removal – wait 1 weeks before having this treatment.
Post laser resurfacing – wait 6-12 months before having this treatment.
Post IPL – wait 2 weeks before having this treatment.
Peels 2 weeks before this treatment and 2 weeks after this treatment, depending on strength. Consult your skincare professional.
No Facial waxing 12 hours before this treatment.
A recommended sun protection MUST be worn – no compliance, no treatment.
No standard chemical or highly fragranced SPF's to be used, only physical SPF to avoid adverse reactions or irritations.
Mineral Make Up to be worn (no talc powders).
Post Treatment Balm to be worn for next 2-3 days.
Use Gentle Cream cleanser 2-3 days after treatment.
No chemicals including swimming for 48 hours after treatment.
No harsh skin care including Retinol or exfoliants for 72 hours.
Cold sore prone use Acyclovir or Zovirax after treatment.
No exercise for 24 hours.
No spray tan or solarium.
No waxing for 5 days after treatment.
Can't apply cosmeceuticals for at least 48 hours.
Men – No shaving for 12 hours before this treatment or after this treatment.