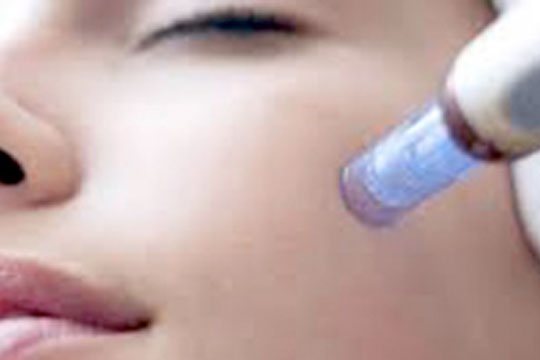 Restore your skin to its optimal health with the help of Dermapen 4. The new Dermapen 4 promises to deliver fast and effective results safely from our authorised trained Dermapen skin experts. This revolutionary skin pen is the best device for collagen induction therapy, a skin rejuvenation procedure that treats a myriad of skin conditions through natural and safe collagen production.
A Dermapen is passed over the skin causing tiny punctures within the dermis and epidermis, encouraging facial skin to heal itself naturally. During this process, essential minerals, proteins, new collagen and elastin fibers are discharged and regenerated straight away. This treatment is similar to acupuncture for the face.
Skin will be red and inflamed when you leave – a hat & scarf is recommended. Treatment focuses on pigmentation, acne, sensitive skin, rejuvenation, aging and marks. This treatment may require prepping depending on the skin type.
Treatment includes a calming mask to soothe and calm the skin. We recommend 3-6 treatments depending on skin concern.
Package of 3 treatments

$690
Must be prepped on Pigment Punch or another pigment blocker as instructed by your skincare therapist.
If you have been on Accutane, from the day you finished you must wait 6-12 months before having this treatment.
Dermal Fillers – wait 2 weeks before having this treatment.
IPL or Laser hair removal – wait 1 weeks before having this treatment.
Post laser resurfacing – wait 6-12 months before having this treatment.
Post IPL – wait 2 weeks before having this treatment.
Peels 2 weeks before this treatment and 2 weeks after this treatment, depending on strength. Consult your skincare professional.
No Facial waxing 12 hours before this treatment.
A recommended sun protection MUST be worn – no compliance, no treatment.
No standard chemical or highly fragranced SPF's to be used, only physical SPF to avoid adverse reactions or irritations.
Mineral Make Up to be worn (no talc powders).
Post Treatment Balm to be worn for next 2-3 days.
Use Gentle Cream cleanser 2-3 days after treatment.
No chemicals including swimming for 48 hours after treatment.
No harsh skin care including Retinol or exfoliants for 72 hours.
No exercise for 24 hours.
No spray tan or solarium.
No waxing for 5 days after treatment.
Can't apply cosmeceuticals for at least 48 hours.
Men – No shaving for 12 hours before this treatment or after this treatment.