Massage is not just a luxury, at Beautyologist, we understand the intimate connection between inner peace and outer beauty. You'll be swept away upstairs to a quiet place where a warm, expert touch will massage your muscles into submission, alleviating the pain and tension caused by your busy life. Take a few deep breaths and clear your mind: you're going to love this!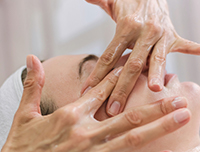 Lymphatic Drainage Facial Massage
Lymphatic drainage is a therapeutic massage technique that uses light pressure and gentle strokes to stimulate the flow of lymph and detox toxins from your body. The lymph system is a crucial part of your body's immune system and helps fight infection and disease.
This facial treatment starts with a deep cleanse and exfoliation. Your massage starts by awakening the lymph nodes and then allow yourself to lie back sink into our treatment beds whilst our therapist lightly massages your entire face, neck, scalp and shoulders. A good facial can make your skin glow and feel smooth BUT a brilliant facial can detox your skin also. Highly addictive!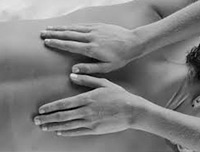 A wise add on to any of our facials or a stand alone lunch time massage fix.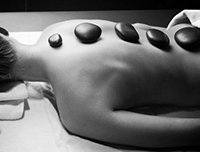 Includes Facial Massage and Hot Stone Back Massage
Enjoy the power of our signature essential oil blends mixed with our hot stones in our heated massage tables! This incredible combination will calm, deeply soothe tension and revive your muscles. Massage is customised to what you personally would like as it is all about you and your time.