Rachel McAdams is this weeks Style Inspo thanks in large part to her lovely, and classic manicure. It's a reverse french tip, which is certainly quaint, but nothing new. What we're loving here though, is the pairing of the pinkish nude hue, with the contrasting ivory; it all looks absolutely luxurious against her lacy black gown, perfectly accentuated with rose gold jewelry.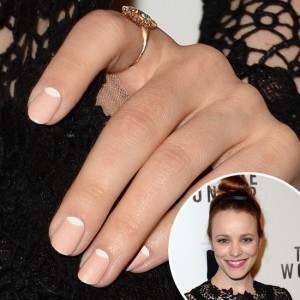 Book in for your next mani, pedi, or best yet- BOTH by booking online.
Hands
Hand Buff & Polish – $25
Devine Manicure – $65
includes paraffin, massage and lasting polish
Shellac Dry Manicure – $55
Shellac and normal French Polish – $15
Shellac Removal – $15
or free at time of manicure or pedicure
Feet
Feet Buff & Polish – $30
includes dry cuticles
Devine Pedicure – $75
includes massage and lasting polish
The Luxe Pedicure – $90
includes paraffin and blading
Shellac Dry Pedicure – $68
See the full list of mani & pedi services & add on's here.