Chantelle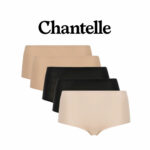 Chantelle's mission is to deliver the most consumer-centric lingerie shopping experience. By combining our vibrant, creative energy and robust technology, we meet our customers' needs as well as anticipate them.
Designed in France with ultra-stretch fabric technology, these items are one size fits all making them an easy gift to buy anyone.
Chantelle softstretch is ultra-light breathable, quick drying and unparalleled elasticity that never digs in.
Showing all 12 results